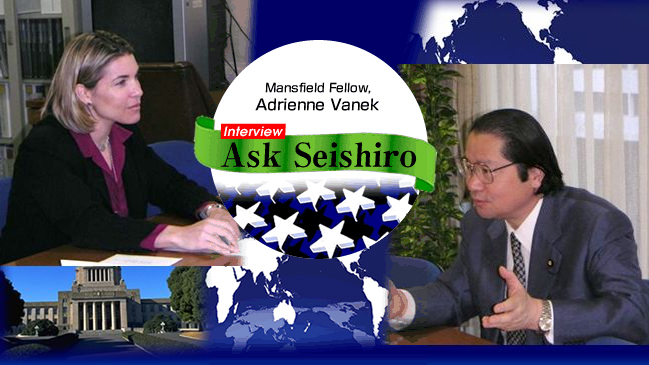 Why did you want to become a politician?
The main reason I wanted to become a politician was to help my hometown become a more comfortable place in which to live. Since the transportation system was not very well developed, I thought it most important to build and maintain the local roads. I figured the best way of successfully fixing the transportation problems was to become a town leader, prefecture assemblyman, or Diet member.

When did you realize you wanted to become a politician?
The first time it really dawned on me [that I wanted to become a politician] was when I was a junior high school student.
What impressed you most when you studied in U.S.? Why did you choose to study in U.S.?
I wanted to go to the United States to experience the American democratic process first-hand, and, in particular, cover the 1968 Presidential elections. My goal was to learn as much as I possibly could by watching and observing the electoral process [for the President.] For this reason, I watched intently as Nixon was named the Republican candidate and originally McGovern, then Hubert Humphrey, won the Democratic nomination. I also was able to attend both the Democratic Convention in Chicago and the Republican Convention in Miami. The opportunity to experience and learn more about the process that goes into electing an American President every four years was one of the best ways to learn about democracy.
Since city management was another interest of mine, I was keen to learn more about the various systems of city management/planning in the United States. My visits to several cities to see how their management systems work, including Pasadena and Sacramento, were extremely beneficial and educational.
This is now the 2nd time that you having graciously accepted a Mansfield Fellow into your office. Why do you particularly enjoy hosting them?
It is quite an honor for us to host the Mansfield Fellows - especially because the experience is so meaningful, and the Fellows are just great. So, it was only natural for us to jump at the opportunity to accept another Fellow to our office. It is very beneficial for the Fellow (as well as the other Fellows) to discuss their fellowship experiences, and share their views on Japan and the Diet with their colleagues, friends and Senator(s) when they return to the United States.
Have your goals changed from when you first entered politics to the present day? If so, how and why?
When I first became a politician 26 years ago, my priorities were focused on making Oita prefecture the number one prefecture in Japan. In order to accomplish this, it was crucial to build and properly maintain the prefecture airports, port areas, and highways. Given the importance of a well-functioning transportation system, my goal [of building a proper transportation infrastructure] eventually expanded to include all of Japan. At the present time, my goals have broadened from being exclusively focused on the prefecture to the nation as a whole.
I want Japan to be a more energetic, dynamic country, and the Japanese people to have bigger, loftier goals and aspirations. I want the Japanese people to have a greater sense of pride [in being Japanese] and have more trust in the Japanese Diet. I also would like for the people to expect more from the Diet and the politicians so that together we can build a better Japan! I believe that, in order to cultivate this kind of atmosphere, we need to take a hard look at what would be the best possible system for Japan. We currently have two chambers, the House of Representatives and the House of Councilors, akin to the House and Senate [in the United States.] In order to create a political system for the people and by the people of Japan, it would be better to combine these two chambers into one, unicameral political system. In other words, in order for us to make the necessary bigger changes in Japan, we need to change the political system. So, yes, my goals have steadily progressed and changed over the years.
With regard to Japan's international role and responsibilities, particularly in the context of Asian leadership, world political leaders, and the G-7, it is crucial that Japan dutifully carry out its international responsibilities and obligations in order to foster stronger international and bilateral relations. Japan needs to adopt laws that will enable it to successfully achieve such goals. As you can see, my original goals and aims were focused on Oita prefecture and Tokyo; they now have been expanded to include Washington D.C., the U.N., and New York.
How do you foresee the farmers in your district being affected by the increased liberalization of the agricultural sector likely to occur as a result of FTA implementation?
Honestly speaking, these issues - agriculture, infrastructure, marine products- are not just problematic for Japan. I think it is becoming an increasingly important and difficult issue for all countries. Although Japan is an agricultural-producing country, it has both producers and consumers. Until recently, Japan had essentially been a country of farmers; in contrast, the peoples of Europe and the United States were hunters. Being an island nation, Japan continues to import increasingly greater amounts of foreign-produced agricultural products. This obviously creates certain difficulties for our domestic agricultural producers. Therefore, while needing to implement policies that protect our domestic farmers and our farming villages, we also need to carry out our international responsibilities as a WTO member country.
It is important for us to proceed along both paths as a responsible member of the global community by upholding our responsibilities as based upon the international rules as outlined by the WTO. However, as is evidenced by the present situation, our domestic farmers will face even more difficulties, thus making it harder for them to earn a living. Then, there is also the issue of controlling production. For example, let's take a look at Japan's self-sufficiency rate. Our self-sufficiency rate in food is currently 40%. In order to prevent a decrease in domestic agricultural production, Japan will attempt to achieve a self-sufficiency rate in food of 45%. In order to realize this goal, it will be necessary to offer some protection to the domestic farm industry. At the same time, however, we continue to import foreign-produced agricultural goods. Although difficult, Japan needs to remember its obligations as a member of the international community, and as a WTO member.
If we were to compare farming in Japan to farming in other countries, such as America and Australia, we find many reasons for Japan's comparatively weaker competitive position vis-a-vis agricultural products. For instance, due to the smaller size of agricultural plots and higher cost structures in Japan, not only is productivity lower, but, competitiveness is also significantly weaker. Because Japanese international competitive power is weaker, it is important to preserve the agricultural industry. Additionally, nature, greenery and the environment are crucial elements that help sustain the mind and spirit of the Japanese people. Agricultural producers and domestic consumers need to pay particular attention to the fragile balance of protecting our natural resources and using them to produce agricultural, forestry, and marine products. In addition to the importance of WTO member countries upholding their responsibilities, there also needs to be some kind of global standard for the production of agricultural, forestry and marine products based on the premise of equal footing.
As the Chair of the Diet Member's Soccer Friendship League, who is your favorite soccer player on the National Team?
Due to his tremendous effort and hard work, I would say Hidetoshi Nakata.
Who has been the most influential person in your life?
My former professor from Waseda University, Tadashi Yoshimura, has been the most influential person in my life.
What kind of student were you in high school?
I played sports and studied hard when I was in high school. Since I was always strong-willed and had high hopes, I made sure to stay positive, remain optimistic and always give it my all.
What is the most important piece of advice you have shared with your two sons?
I would say that the most important piece of advice I have shared with them was to take good care of their health.
Can you please share with us the first date you had with your wife?
We first met at a meeting of other amateur radio hams. And, we also saw each other at English language group gatherings.
Ms.Vanek
What is your favorite food? film? sport?
My favorite food is fish, especially yellowtail, and sea bream. As for my favorite film... there are so many aren't there? I would say that "South Pacific" and "West Side Story" are my favorites. My favorite sports are soccer, motor sports, and golf.
Given that you have so little free time, what do you enjoy doing when you have it?
Travel. I like both domestic and overseas travel. When I have longer periods of free time, I like traveling overseas and playing sports, especially golf with my friends.
Your curriculum vitae is so distinguished and varied, which experience has left the greatest impression on you, and why?
I would say both my positions as Minister of the National Defense Agency and Minister of Defense due to the importance of protecting Japan, and the great responsibility entrusted to me as the highest protector of the nation's security.
Among the various government reform measures being carried out by the Koizumi Cabinet, which do you believe is the most difficult to achieve, and why?
The fixed number of federal and regional employees, including other staff, will be reduced due to various reform measures [of the Koizumi Cabinet]. I believe these efforts to restructure the government is the most difficult task facing the Koizumi Administration, especially due to the strength of the labor unions.
What are the most urgent domestic and international issues facing Japan?
The most urgent domestic issue is regional government reform. I would say the next important domestic issue is the ensuing consolidation of our cities, towns and villages. The surrounding issues are the same ones challenging us as we go about rebuilding the nation's finances and carrying out government reform measures.
I would say resolving the problem of the Japanese kidnapped by the North Koreans is the most urgent international issue facing Japan. The next important international issue is that of proving the existence of a North Korean nuclear weapons development program. Another urgent international issue is that of terrorism and the eradication of international terrorists and terrorism.

I am both honored and delighted to have had the chance to interview Congressman Eto. What a wonderful opportunity to learn more about how Daigishi came to be the extremely hardworking, dedicated public servant he is -- and I extend my sincere gratitude to him for allowing us a candid glimpse into his public and private life. I hope that you enjoy the interview as much as I did!